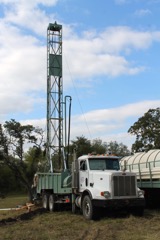 Drilling
We offer drilling services for residential, agriculture, and oil field applications in Lavaca and surrounding counties.
Call, email, or stop by for a free drilling estimate. We need the following information to make an accurate estimate:
physical address or directions to the property – We use this to search our in house selection of well logs and the state well log database to find information about wells near your drilling site.
what you plan to use the well for – house, cattle, both, irrigation, rig supply, or frack supply
water usage – We can base this off of the number of people in the house, if you need a yard sprinkler system, number of animals you're providing water for, and or size of pond you're wanting to maintain. We need this information in order to size a pump to the well.
contact information – We would like to provide you with a written estimate. We can email, mail, or fax this to you or you can stop by our office.
timeframe needed – Our current drilling schedule may vary from three weeks to three months depending on the weather and current demand. Please let us know if you have an emergency situation.
Depending on the county we will be drilling your well in, you may need to apply for a new well registration or permit. Below are links to websites for groundwater districts we routinely drill in:
Colorado – Colorado County Groundwater Conservation District
Dewitt – Pecan Valley Groundwater Conservation District
Goliad – Goliad County Groundwater Conservation District
Gonzales – Gonzales County Underground Water Conservation District
Jackson – Texana Groundwater Conservation District
Karnes – Evergreen Underground Water Conservation District – also covers, Wilson, Atascosa, and Frio counties
Lavaca – does not currently have a groundwater district
Victoria – Victoria County Groundwater Conservation District
Pump installation and service
Our crews of state licensed pump installers install and service electric well systems – please call for hourly service rates.
Pump houses
We sell and install pump houses to help winterize your well.
Trenching
Generator rental
Fastline rental and layout
Custom millslotted screen